Grizzlor
Band Information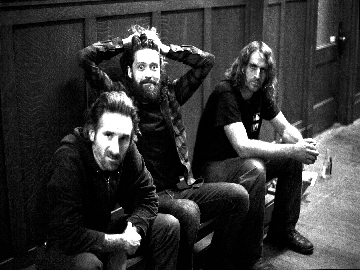 GRIZZLOR is an American noise rock trio from New Haven, Connecticut, formed in 2014, known for their fuzzed out, angular riffs and abrasive vocals.

Early in 2014, the band self-released their debut EP, We're All Just Aliens, it having been equated to the "chaotic and sloppy nastiness" that is reminiscent of early AmRep bands such as Cows and Halo of Flies.It gained quick attention from UK's NME Magazine's Thom Green (Alt-J) and it secured them a spot in the April 5th issue of NME's "Radar" column.

Later that year, with the label Money Fire Records out of Brooklyn, New York, their second EP and first record on 7" vinyl, When You Die, was released. Matt Korvette of Pissed Jeans has compared the recording sound to the likes of records by Karp and vocal styles evocative of Drunks With Guns vocalist Mike Doskocil, having "Mike Doskocil-levels of sewage and refusing to cater to any sense of melody."

In early 2015 the band teamed up with Norwegian sonic equivalents, Barren Womb, to release a split 7" through the label Riotous Outburst Records out of Providence, Rhode Island. The release coincided with an East Coast US tour for both bands. Grizzlor also toured with Bardus (Philadelphia) and HAAN (formerly No Way) (Brooklyn) that same year.

Fall of 2015 brought their 3rd EP, Cycloptic, which marked a faster, riff heavier writing style, where most songs hover on either side of 90 seconds apiece. Released with the Syracuse, New York hardcore/punk label, Hex Records, it has been deemed "what the Melvins would sound like if they were three times faster with a tenth of the attention span". The record helped land them in Revolver Magazine's Bands to Watch "Quick Fix" Profiles in the December issue of that year, and was listed one of New Noise Magazine's "Top 10 Noise Rock Albums of 2015".

Since Cycloptic's release, Grizzlor released a split 7" with Toronto's Godstopper via Corpse Flower Records, jumped on with UXO (Chris Spencer/Unsane, Steve Austin/Today is the Day) for a couple days of their record release tour in early 2016 and trekked a Midwest tour with Bardus for Detroit's Berserker Fest 2016 in March of that year.

In the winter of 2017 they toured Southeast USA and embarked on a small run of shows down south that summer for PRFBBQLOU Festival in Louisville, KY.

Their most recent release being Destructoid, their first full-length record via Hex Records, which came out September 8th of 2017.

"Their unique brand of lurid, sludgy weirdness is perhaps more potent than ever. Coming across like the Melvins providing a twisted soundtrack to Saturday morning kid's cartoons, "Destructoid" is a barrage of sharp angular riffs, aggressively pummeled rhythms and vocals spat through a wall of misanthropic fuzz" - The Sludgelord

https://grizzlordestroys.bandcamp.com/
Members
Releases