The Soviettes
Band Information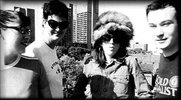 It's cold and crappy and six months long, but the Minnesota winter's grey clouds often have shiny linings. Case in point: The Soviettes. It was early winter 2000 when Annie (The Hostages, Cadillac Blindside), Susy (Bombshell) and Sturgeon (The Salteens) bunkered down in Susy's basement and tried to break the seasonal monotony by starting a band.
Things went pretty well, with Dillinger Four's Lane Pederson filling in on drums for The Soviettes first EP, "TCCP". Fortunately, the single turned out better than the group's train wreck of a first show, and local label owner Max Peters of Pop Riot Records offered to put the 7" out. Having nowhere to go but up, the three girls practiced hard and were lucky enough to recruit Danny Henry (The Short Fuses) as a full-time drummer in late winter 2001.
With the line-up complete, The Soviettes began writing songs at breakneck speed. A split album and a few comps later, they were ready for their own full-length, and were approached by Billie Joe's (Green Day) Adeline Records. The Soviettes' self-titled LP was released in time for a successful Summer Tour 2003, and the band has been busy with interviews, reviews, and shows since returning in August. They're hitting the road for the West coast this Christmas, and are back in the studio February 2004, with a brand new set of songs to be released this June, when they'll tour the U.S. again!
Members
Annie
Susy
Sturgeon
Danny Henry - Drums
Releases